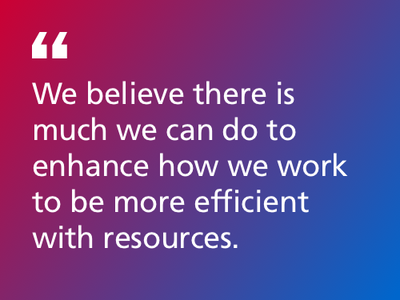 We understand that the climate crisis is already here, and that our role as a plastics manufacturer means we have a part to play in limiting global warming to well below 2°C and to pursue efforts to limit warming to 1.5°C in line with the 2015 Paris Agreement.

We believe that there is much we can do to change how we work, so that we are as efficient as possible, and ultimately release less and less carbon into the atmosphere over time. Already, among many other initiatives, our engineers and continuous improvement experts are implementing innovative technology and processes. This enables us to re-use production scraps on-site, with no need to involve a third party, therefore reducing our carbon footprint. This expertise is shared globally.

By the end of 2025, we will increase energy efficiency by 17% against a 2019 baseline.

The most sustainable energy is the energy you don't use in the first place. That's why in 2019 we set up our Global Energy Task Force. The Task Force helps us reduce the amount of energy used in our manufacturing plants by consistently finding new efficiencies. One hundred cross-functional kp experts from operations, engineering, maintenance, procurement and business excellence, approach energy efficiency
in a holistic way, and collaborate to find imaginative solutions to problems old and new.

The Task Force is leading on optimising maintenance regimes, adjusting plant operations and investing in new equipment, on the basis that there is a natural synergy between energy efficiency and improved productivity. We typically find that energy saving projects make complete commercial sense.

With an effective governance process in place, the Task Force constantly tracks progress against meaningful targets. Robust analysis tools and energy performance indicators are now standardised across our plants.

Future areas of focus include installation of energy-efficient motors, recovering waste heat from our processes, and improving energy monitoring systems to better visualise and measure energy. We are constantly seeking insight into energy performance at facility, process and machine level.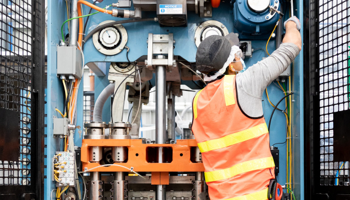 A member of the kp team performing maintenance tasks on plant equipment.
By the end of 2025, we will reduce Scope 1 & 2 emissions by 50%, and by 2030, Scope 3 emissions by 20% per tonne of raw materials, against a 2019 baseline.

We are focused on reducing our carbon emissions in the broadest possible sense, and have undertaken an extensive review of all our impacts. Scope 1 covers direct emissions from owned or controlled sources, Scope 2 covers indirect emissions from the generation of purchased electricity, steam, heating and cooling, while Scope 3 emissions are the result of activities from assets that we don't own or control but that are part of our wider value chain.
For our own operations, of course, our energy efficiency efforts help us with this target. But we are also increasing our use of cleaner fuels by investing in renewable energy sources – around 20% of our electricity already comes from renewables, and we are working to increase this significantly.

While we will look to reduce all of our Scope 3 emissions, our focus is on the materials we purchase to make our products, the subsequent processing of these products, and end-of-life treatment. Our growing use of recycled content, partnering with our suppliers on lowercarbon materials, and our push to increase the recyclability of our products, will be the key factors in helping us achieve this goal.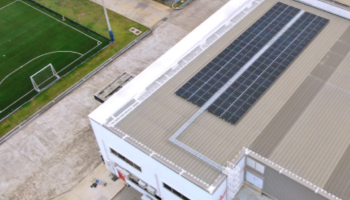 Solar PV installation at our plant in Rayong, Thailand.
By the end of 2022, we will send zero waste to landfill or incineration without energy recovery.

We face growing constraints on the availability of natural resources. So, our goal is simple – we must do more with less, and waste less. To help us do that, we think about waste in the context of the globally recognised 'waste hierarchy', which ranks waste management options according to what is best for the environment. Top priority is preventing waste being created in the first place, and we've had a strong focus for many years on implementing new and innovative processes to re-use trim material created as part of our manufacturing process.

We aim to recover the waste we generate that we cannot reuse in the most environmentally responsible manner possible, which typically also means said waste retains a relatively high economic value. Our overall ambition is to reach the point where no materials generated in any of our plants goes to landfill or incineration without energy being recovered. Accordingly, in 2020 we launched an internal Zero Waste programme, which focuses on reducing the amount of waste generated at our plants and on finding the best 'end of life' options.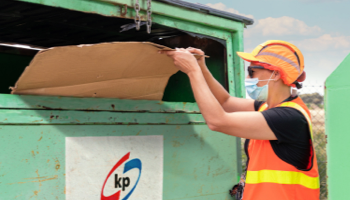 Waste recycling infrastructure at our plant in Melbourne, Australia.