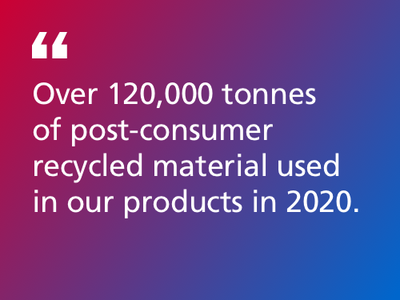 The products we make must contribute to a truly circular economy. Making that happen means changing the traditional 'take-make-waste' linear model, and replacing it with a circular system which, through dramatically increased recycling, will cut waste significantly. Of course, that's a team effort – and we are working together with manufacturers, retailers, consumers and recyclers to find new ways to reuse and recycle more plastic.

We are proud to be a global leader in incorporating recycled material within our products – many already include 100% post-consumer recycled content. However, we understand that recycling on its own isn't enough. That's why we also design to reduce the weight and thickness of our packaging wherever possible, while making sure that the products within are still protected.

 When we engineer our products, we think about sustainability at each stage – from design and manufacturing, to use and end-of-life. And of course, we remain firmly committed to satisfying specific customer needs for effective high-barrier protective packaging. For some 'Reduce, Reuse, Recycle' is just a slogan, but it is an integral part of how we do things at kp.

By the end of 2025, we will use at least 30% post-consumer recycled material in our packaging.

Post-consumer recycled PET, or rPET, is our recycled material of choice. We've been using it for nearly twenty years to produce high-quality products that meet global safety standards, while retaining consumer appeal. Aided by our substantial investment in 'supercleaning' technology, it's now possible for our products to incorporate repeatedly recycled material, while maintaining high quality standards.

Currently, only about 14%* of plastic packaging produced globally is collected for recycling, so there's a lot of work to do.

Designing for recyclability and maximising recycled content means reducing our use of virgin materials. We are proud of the volume of post-consumer recycled material we already use, but we want this to grow. However, as demand increases, supplies of this valuable material can run low. That's why we're always looking for ways to encourage people to recycle more. And it's why we work closely with stakeholders around the world to develop the infrastructure and incentives that enable us to secure a stable supply of post-consumer recycled material. For example, we've collaborated with a large UK recycling business to guarantee an annual supply of 8,000 tonnes for the next 4 years.

Along with rPET, we are working hard to increase recycled content for other polymers that we use to produce products. We have started to work with post-consumer recycled HDPE collected from at-risk coastal communities in countries such as Haiti and Mexico which means that we're not only helping protect the environment, but helping strengthen local economies too.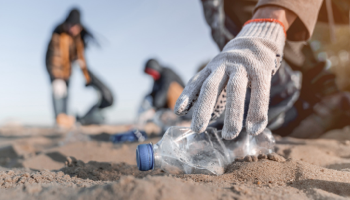 kp is integrating postconsumer recycled HDPE collected from at-risk coastal communities in countries such as Haiti and Mexico.
By the end of 2025, at least 30% of recycled material in our packaging will include 'Tray2Tray™' material.

We believe there is a big opportunity to recover much more post-consumer food packaging, so that it can be recycled and transformed into new and fully recyclable products. That's why we've developed a dedicated programme that will 'close the loop' for trays and rigid films – kp Tray2Tray™.

We've put together a comprehensive roadmap that will help us achieve this target, and have already found success with packaging made from a blend of rPET taken from bottles and trays. With an increased focused from our customers and consumers and with new taxes on virgin plastics, recycled content bottle flake will be harder to come by. That's why we are increasing our use of tray flake as our main goal.

Developing a market for recycled PET tray flake isn't something we can achieve alone – so we're working with our entire value chain to generate more demand. At the same time, we are strengthening partnerships with recycling companies, suppliers, and customers to ensure a constant supply of post-consumer recycled plastic.

That means working with the recycling industry to 'pull' more plastic PET trays back to us, while at the same time collaborating with our customers to 'push' demand for trays made from rPET tray flake.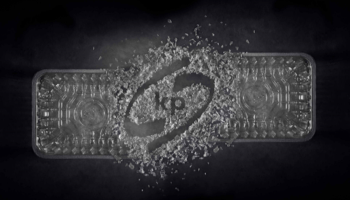 kp is on a mission to recover post-consumer food packaging and turn it back into more of the same.
By 2025, 100% of our packaging will be recyclable.

Designing with recyclability and circularity in mind so valuable plastic doesn't go to waste is at the top of our agenda. We take into account several definitions of recyclability, including those outlined by RecyClass, the Ellen MacArthur Foundation, the UK Plastics Pact, RECOUP, COTREP and CEFLEX, among others. The result is a comprehensive multi-year sustainable material strategy of all materials in our market sectors and packaging formats. We are simplifying our range of materials, focusing on using mono materials where possible, while still providing product protection and ramping up our recyclable product portfolio.

People are more committed than ever before to keeping the planet free of waste, and we are doing everything we can to support them. That means making it clear what can be recycled and how, while ensuring there are enough disposal and recycling facilities available. Of course, while we are making every possible effort, major changes are required globally to build up the infrastructure required to collect, sort and recycle plastics.

To make it as easy as possible to do the right thing, we are making more of our products from only one type of plastic, and offering clearer indications as to how each of our products can be recycled through simple, on-pack messaging. For example, when we launched our new kp Infinity™ packaging range, we embossed each pack with a prominent 'Recycle me' logo. A similar logo with additional messaging also features on the bottom of our clear plastic trays in several languages, as a clear call to action for consumers.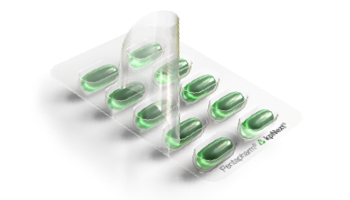 Launching in 2021, the next generation of sustainable pharma packaging with kpNext® (Patent Pending). The first recyclable blister pack solution that can be run with existing equipment