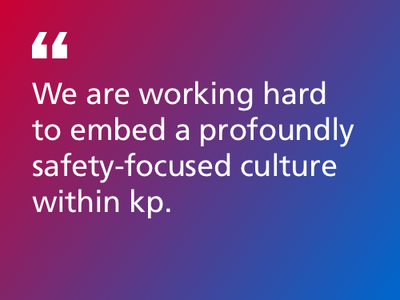 We believe that everyone should be safe at their job. That's why we are working hard to embed a profoundly safety-focused culture within kp, and are implementing many initiatives globally to make that happen.

Additionally, it's clear the most successful companies are the most diverse. That's why we provide a work environment where everyone feels safe, valued, respected and empowered to make contributions based on their unique backgrounds, perspectives, talents and experiences. Frequent two-way communication between leadership and our employees is also critical for the smooth running and growth of the business. That's why we run frequent employee engagement surveys, and act on the findings. We've also found that our people care deeply about making a positive impact on their local communities, and so we are determined to do more of this valuable work.

By the end of 2025, we will reduce our lost time accident rate to zero.

Protecting the health and safety of each employee is our top priority. We want everyone who works with kp to come to work healthy, go home healthy and retire healthy.

As a cornerstone of our global Health, Safety and Environment standard, we have adopted the Behavioural Based Safety approach, which focuses on workers' behaviour as the cause of most work-related injuries and illnesses.

Our contract suppliers are completely integrated into our safety requirements, with zero-violation tolerance. All workplace accidents are thoroughly investigated by management, and all process changes in production and administration are evaluated with respect to health and safety.

kp's Leadership Team is committed to making the necessary resources available to achieve our safety targets, with the goal of reducing our lost time accident rate to zero. We believe that all accidents and occupational illnesses are preventable.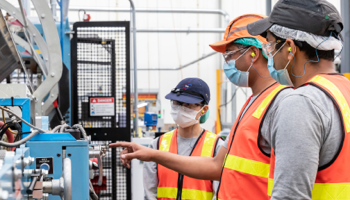 Members of the kp team performing a safety walk in one of our plants.
By the end of 2025, the percentage of women at management levels at kp will exceed 30%.

Fostering diversity and inclusion at all levels of kp matters to us, which is why we recently set up our Diversity and Inclusion Initiative, a company-wide, global effort to support a diverse and inclusive workplace. One of the most visible, although by no means only, outcomes of this effort will be a significant increase in gender diversity at management levels.

To help make that happen, we will educate, promote and encourage diversity and inclusion, while advocating for the business benefits and raising awareness of the issue. At the same time, we will incorporate D&I best-practice into the way we work, from talent acquisition through to career development and through offering flexible working practices.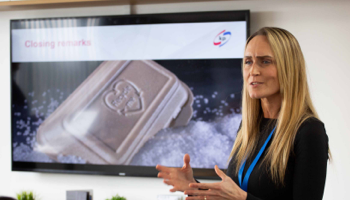 Our Sales Director UK & Ireland at the kp Infinity Launch day event
By the end of 2025, our employee engagement score will improve to over 80%.

Keeping our people engaged is the only way that our business can succeed. Motivated, happy people who enjoy their careers with us enables us to sustain the extraordinary levels of ingenuity and collaboration that makes kp different. To that end, we are committed to driving up our employee engagement score significantly over the next five years. Indeed, we already have over 200 employee codeveloped action plans running to address the feedback received from our most recent employee engagement survey.

We deploy a broad range of employee communications in multiple languages, and ensure that there's regular live dialogue with management. During the global pandemic, we offered extensive support and flexibility to our people, including access to online development and training. Recognition and reward are important to us, and we hold an awards ceremony to recognise outstanding achievement in living our values of Focus, Accountability, Respect and Urgency. These are just some of the initiatives that are helping us to keep our people engaged, satisfied and effective.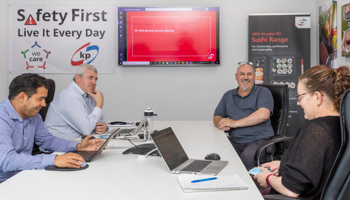 kp colleagues discussing employee engagement actions plans.
By the end of 2022, 100% of kp plans will complete at least one impactful community project annually, doubling that by the end of 2025.

Over the years, we have supported countless local, national, and international causes. Given the hugely positive impact of the projects undertaken, both on our people and local communities, we are scaling up our ambition substantially.

We recently launched 'The kp Community Initiative', a global charitable outreach programme that will help us give back to communities around the world. Our people can participate by submitting a project proposal based on a set of needs to support local communities – we can then give them time off and financial support for activities that improve social and environmental conditions.

Projects will range from providing 'meals on wheels' for the elderly, to teaching school children how to handle plastic properly, advocating for STEM (Science, Technology, Engineering and Maths) education, and participating in women's advocacy groups. All of these activities, and many more, help us and our people to provide genuine support to our communities.


Klöckner Pentaplast (kp) is grateful for the support of the local communities around the world where we have plants. We believe in giving back to these communities, and over the years the company and our employees have supported many local, state, national and international causes.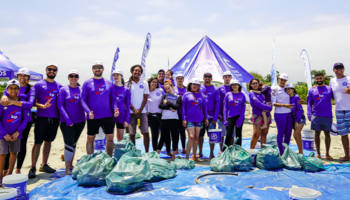 Volunteers from our Brazil site teamed up to clean-up waste from the Gaivota Beach in Itanhaem.
Act Responsibly in action