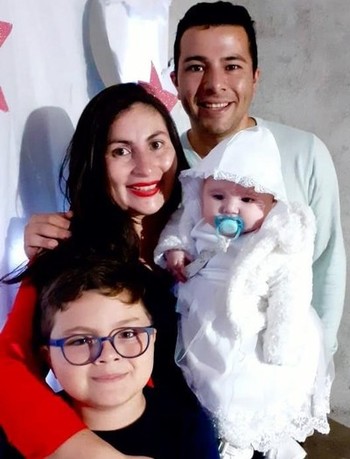 Soledad Dominguez
Production Planner - Slitting from Villa del Totoral, Argentina
I was born and raised here in Totoral, where the kp plant is. It's a small town – about 7000 people – and there aren't many opportunities. I went to college in Cordoba, Argentina's second city, but it was too far from home and I couldn't leave my family for so long.

kp gives people the opportunity, to have a good job and stay close to home and family. It also gives me the chance to develop my career and my personal life, as a mother. I've just had my second child and the stability the job gives has been great for that.

Climbing the Ladder – The secret to great quality
When I started in quality control, in 2007, there were four women here, and I was the only one on the factory floor. It was a male-dominated environment and I was very much the odd one out.

I earned respect by making the right decisions, working with people and not imposing my will. If you want to achieve equality, you need empathy, especially in the way you communicate with people.

You don't have to be best friends with everybody but you do need to care about them. That can help a lot. Doing this requires respect for people, and not inflicting your problems on them. My first manager at kp taught me how to filter out pressure when you're communicating. It's important not to allow the pressure of a situation negatively affect how you speak to people.

I feel like I've really had an impact on how the business runs. When I took on the role of production planner we had a series of returns and needed to improve the way we checked quality. I worked on a process to inspect the finished product on the packing line, right down to making sure the right product was in the right box.
I made sure that we told production about any problems we found and helped them work out what needed to change. I'm really proud of the fact that, once this was in place, we went to zero returns and today we've got one of the lowest return rates of any kp plant.
As an production planner, I bring my experience of the factory floor to the job. I am the link between planning and production, and I match what we produce with what's been ordered so we make the right amounts of product.

Soledad Dominguez
Production Planner - Slitting
But before I started there wasn't much of a connection between the factory floor and planning: it was more of an office job. Because I'd worked in production and even trained the machine operators, I knew what happened in the plant.

The change I made was to bring the factory and planning closer together. I don't just make plans – I work with the people who make the products, and I work on the factory floor. It's easier to do a production planner's job when you know how the products are made.

And I'd say that learning the admin part of the job is easier than fully understanding the production process.

The success I've achieved makes me feel thrilled to be part of the business. It's one thing to stop problems but another to see how daily improvements over several years create big change. It gives you the energy to keep going and personally, it motivates me to be a role model and mentor to other women who desire to move up in manufacturing.