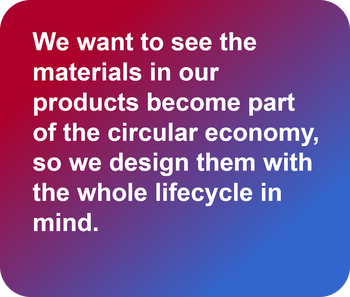 Closing the loop requires us to design for recyclability, maximise post-consumer recycled content (PCR) quality and availability, and to work with industry stakeholders on policy, consumer education and planning to ensure suitable infrastructure is available. We must also consistently upgrade and re-engineer our production processes to maximise the amount of PCR we're able to use.

63%
Recyclable alternatives offered for 63% of our products
9%
Circular Tray2Tray® initiative generated 9% of our PCR during the year

30%
30% of our products by volume are designed for recyclablity, an 8% increase since 2019
Target I: Use more recycled material
By the end of 2025, we will use at least 30% post-consumer recycled material in our packaging.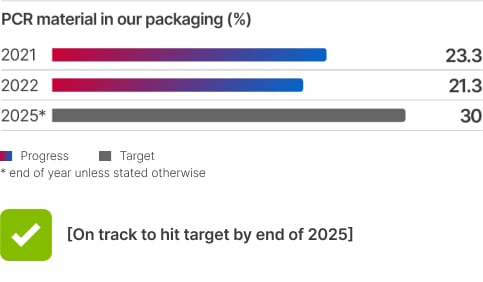 Highlights in 2022
Market fluctuations challenged the industry on PCR usage and availability. We maintained a strong level of PCR usage through focus on efficiencies by optimising process efficiencies.
Future Outlook
We will continue to lead in the use of PCR by leveraging our experience in developing secure supply channels and fostering demand in the markets, while ensuring we deliver the highest quality PCR products.

Target II: Close the packaging loop
By 2025, at least 30% of the post-consumer recycled material in our packaging will be from the kp Tray2Tray® (T2T) initiative.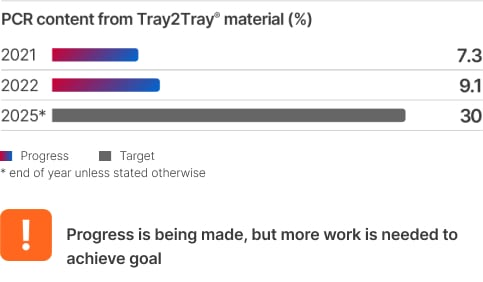 Highlights in 2022
We increased our share of T2T in a challenging market thanks to strong supplier partnerships.


Future outlook
Strong partnerships are key to stable supply across the value chain and weare committed to expanding this programme as quickly as possible.

Target III: Recyclability
By 2025, 100% of our packaging will be recyclable.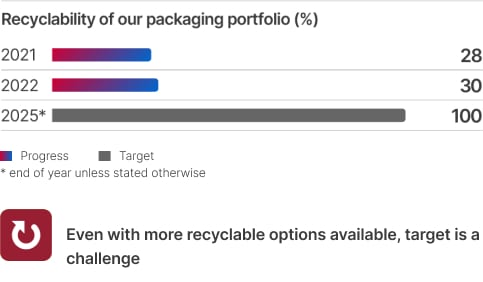 Highlights in 2022
While our overall recyclable share increased 2% to 30%, we now have recyclable alternatives for 63% of our overall product portfolio versus 54% last year.


Future outlook
Our immediate focus is to have as many recyclable alternatives as possible for our product portfolio. We are fully committed to working with the whole value chain to ensure recyclable packaging is actually recycled at scale.