Our four-point plan for a future with less waste
Plastics have an incredibly important role to play, both today and in the future. At kp, we're shaping that future through our Positive Plastics Pledge.

We see a future in which we optimise the resources we use to ensure we have the lowest carbon footprint possible; where packaging is based on greater recyclability, and the greater use of recycled materials and sustainable sources; where recycling is widely understood and supported; and where used plastic is valued as a resource. We see a future in which we all participate in the circular economy for plastic.

Our Positive Plastics Pledge is the next step on kp's journey, but it's one we can't take alone. Only by working together with our peers, our customers, everyday consumers, retailers, brands and governments, local authorities, recyclers and waste processors can we achieve our ambitions. So join us on our journey towards a more sustainable future for plastic: a future with less waste.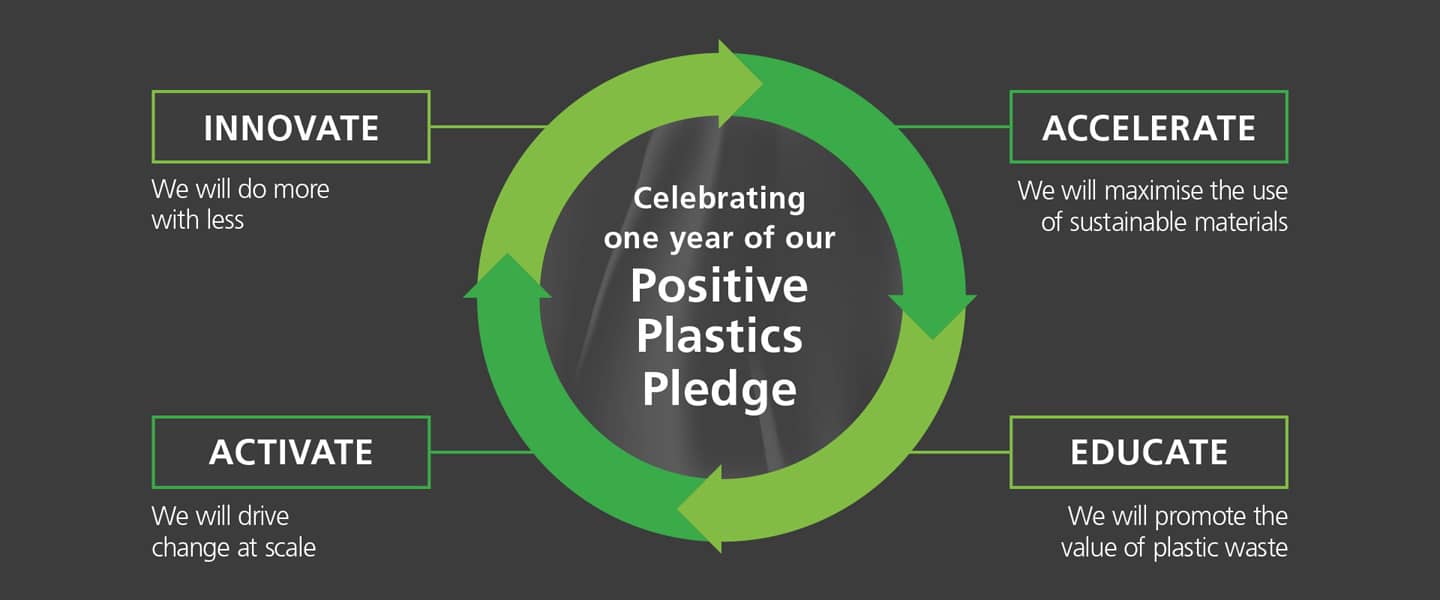 We've achieved a lot in the first year of our Positive Plastics Pledge, and we continue to go further.
Awards won in 2019:
The Food Packaging Association's CSR Award 2019
Waste2Zero Awards 2019 – Best Recycling Project (Public Sector) for closing the loop with the #LeedsByExample project
Waste2Zero Awards 2019 – Best Closed Loop Project (Runner-up)

Sustainability Confex 2019 – Sustainability Solution Provider (Innovative Packaging)
UK Packaging Awards 2019 – Best Rigid Plastic Pack of the Year (Jewel range)
UK Packaging Awards 2019 – Highly Commended for Packaging Company of the Year
And of course, in 2018, our Global Sustainability Director, Lubna Edwards, received the Special Achievement Award 2018 at the Waste2Zero Awards for the multitude of media platforms around the plastics debate and helping to educate on the benefits of plastic.
In the last year the world of plastics has changed at an unprecedented rate and we continue our determination to help make it a sustainable one for society and for our environment.

Scott Tracey
CEO
The four pillars of our pledge
Innovate: We will do more with less
Our goal: Manufacture products with up to 100% recycled content, such as post-consumer recycled polyester (rPET) recovered from bottles, pots, tubs and trays.

We take a holistic view of packaging across its entire life cycle. At every stage of the design and manufacturing process, we consider innovative ways to reduce the environmental impact of our products before, during and after use.

Too much packaging is unnecessary and wasteful, while too little won't protect the product adequately during transportation, in store or at home. We seek to create the optimum balance, keeping it as light and resource efficient as possible while ensuring it's still preserving and protecting the product.

Lighter = lower
Our 'light weighting for excellence' programme focuses on resource efficiency and maximising mechanical performance, delivering weight and carbon reductions through intelligent packaging solutions and innovations. The design of our award-winning RFresh® Elite tray has achieved a 35% weight reduction and almost 50% reduced carbon footprint. The tray is made with 100% rPET and is also fully recyclable after use, supporting a closed-loop process.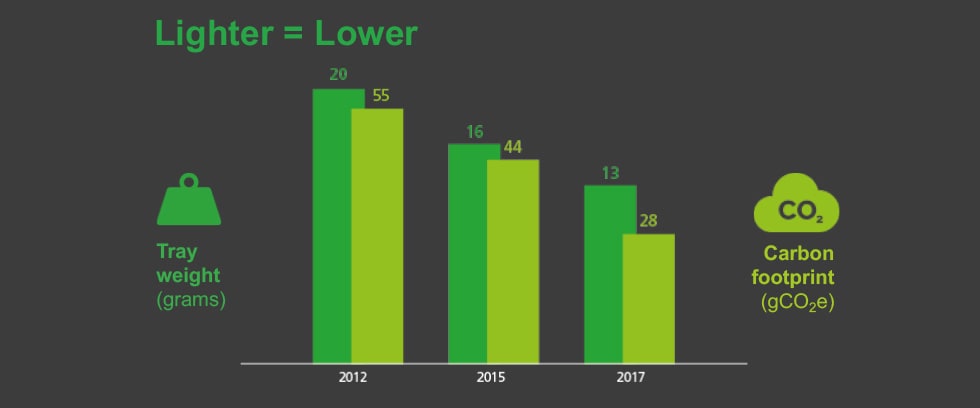 Highlights
In 2018, we created a platform for over 300 people in Poland (from scientists to enthusiasts) to submit bold new ideas to reduce plastic waste.
Accelerate: We will maximise the use of sustainable materials
Our goal: By 2028, we aim to only use materials that are practically recyclable or sustainably sourced.

We want to make it far simpler and more convenient to do the right thing.

People and communities want to play their part in protecting the planet but it's not always obvious what can and can't be recycled. We want to make it really simple for people to recycle our products, so we're reducing the number of polymers – that is types of plastic – we use.

By simplifying our range of materials and making it clearer how each product can be recycled, we hope to make collection, sorting and recycling much easier for everyone.

We're also committed to phasing out non-recyclable plastics, where functional and sustainable alternatives exist, but without contributing to food waste. We're already looking at developing new materials and, while many of them are only at the research stage, we're investing in the right solutions.

Highlights
In 2018, we were selected by Tesco, a UK supermarket, to help replace film from some of their own brand lines with an alternative that can be recycled with old plastic carrier bags at their in-store return schemes.
Educate: We will promote the value of plastic waste
To highlight the benefits of plastic during and after use, we're engaging with consumers and communities around responsible disposal and the value of plastic waste as a resource.

We believe the benefits of plastics are often under-appreciated. Plastics have unique, versatile characteristics that no other material can match: they're hygienic, safe, flexible, durable, strong, light and have superior barrier properties to preserve and protect perishable products, helping to reduce food waste.

By giving consumers clearer information, via on-pack labelling and through wider engagement and communication campaigns, we can educate them on the purpose and benefits of packaging and how and what can be recycled. It will also allow us to explain why it's a much better solution than having plastic waste end up in landfill, as litter on our streets or in our oceans.

Highlights
In 2018, we were part of a local campaign with Hubbub to double recycling in Leeds (UK) from 17% to 32% through #LeedsByExample – recovering over 1,700 tonnes of recovered PET and putting it back into our 100% rPET food packaging at our Leeds plant for a true, local, circular economy.
Activate: We will drive change at scale
The challenge: Only 14% of plastic packaging used globally is recycled

The world needs big changes. If we all take action, informed by science-based facts, we can drive transformational change and create a better, circular future for plastic and our planet.

To help close the loop on plastics, we're leading the discussions and initiatives that will transform collection and recycling infrastructure around the world.

We strive to be recognised as a global thought leader across the plastics industry. We will continue to proactively engage with stakeholders throughout the sector, encouraging the increased use of recycled materials and lobbying for improvements in recycling infrastructure.

#PPP 1 Year Brochure Download